And you must commit yourselves wholeheartedly to these commands that I am giving you today. Repeat them again and again to your children. Talk about them when you are at home and when you are on the road, when you are going to bed and when you are getting up (Deuteronomy 6:6-7 NLT).
OUR MISSION IS OUR PROMISE
Our mission can be reduced to a single word: partnership. We are your partners on your child's faith journey. We promise to partner with you by building strong relationships between the church and the family—the two greatest influences in a kid's life. We seek to fulfill our promise by creating exciting and engaging environments at church, offering opportunities for families to serve together, and hosting events throughout the year to connect with families.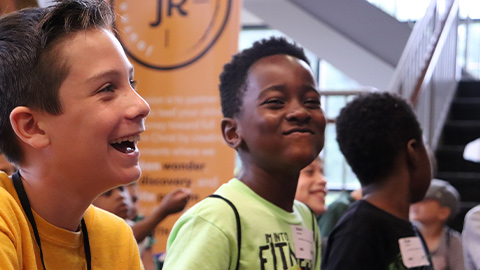 LIVE SERVICES RESUME JULY 12
th
With great excitement, JKids resumes live services on Sunday July 12th. JKids will meet at the same time as adult services and provide childcare for ages 5 years through 4th grade. We'll gather "under the big top" in the lower JKids parking lot. Children under 5 are welcome to continue sitting with you in the adult service. We ask that you check-in your children at the new, outdoor station at the entrance of the lower parking lot.
Take a look at our Reopening Plan
Please note: even when live service resumes for JKids, JKids@Home will continue providing lessons for your family to enjoy at home!
Whether we're meeting together on Sundays and Wednesdays or we're connecting with you over the internet, our mission remains our promise to you. So, while we're not meeting in person, we're preparing lessons for you to enjoy with your family at home. Visit JKids@Home each week for new lessons and activities to lead your child closer to Christ.
Sunday mornings
An environment of excitement!
See the Bible come to life through engaging storytelling and videos, stimulating hands-on activities, and deep dives into Scripture.
wednesday Nights
An environment of discipleship!
Wednesday nights are a whole lot of fun with Awana Clubs! Learn more about Awana programming below.


Child Dedication
An environment of partnership!
Interested in declaring the partnership between your family and the church by having your child dedicated on a Sunday morning?


Get jKids News
Grow in community and learn about exciting events to be a part of. Signup for our weekly newsletter here.
Staff
Children's Pastor
Nursery & Preschool Operations Manager