And you must commit yourselves wholeheartedly to these commands that I am giving you today. Repeat them again and again to your children. Talk about them when you are at home and when you are on the road, when you are going to bed and when you are getting up (Deuteronomy 6:6-7 NLT).
OUR MISSION IS OUR PROMISE
Our mission can be reduced to a single word: partnership. We are your partners on your child's faith journey. We promise to partner with you by building strong relationships between the church and the family—the two greatest influences in a kid's life. We seek to fulfill our promise by creating exciting and engaging environments at church, offering opportunities for families to serve together, and hosting events throughout the year to connect with families.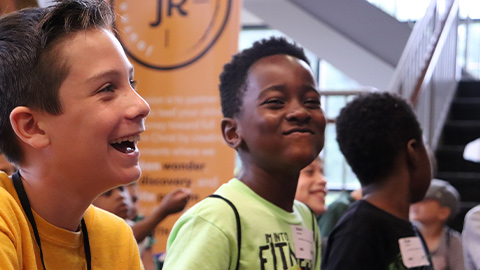 JKids Moves Indoors Sept 13
th
With great excitement, JKids resumes live services for both elementary and preschool kiddos on Sunday September 13th. JKids will meet at the same time as adult services and provide childcare for ages 2 years through 4th grade. We know you're curious how service will operate indoors, so we encourage you to click the button above to review our reopening plan.

With great excitement, JKids is bringing Awana . . . to Sunday mornings! While you're sitting under the Word upstairs, your kids ages 2 years through 4th grade will be singing songs, playing games, and digging into Scripture at our Awana program.
Your child is welcome to attend Awana at no charge. However, if you wish to take advantage of the full discipleship opportunity Awana offers, there is an optional registration fee. If you register your child for Awana, you will receive a handbook to take home, and your child will be eligible to earn awards.
We recognize that not everyone is ready to come back to church in person. Even those coming to church cannot attend every week. To uphold our mission and promise, we're providing for you at home the same lessons we're teaching at church. Visit JKids@Home each week for new lessons and activities to lead your child closer to Christ.
JKIDS IS ON INSTAGRAM!
We are worshipping at church, and we are worshipping at home. No matter where or how your family worships, you're part of the JKids family. To stay connected with JKids, no matter where you are, follow us on Instagram @jkidsccdelco.
child safety clearances
The protection of children is among the highest priorities in JourneyKids. The following documents need to be obtained prior to serving in JourneyKids, Youth, or any other ministry that has contact with children. While the list of forms might seem overwhelming at first, we are glad to provide assistance in completing them.
Get jKids News
Grow in community and learn about exciting events to be a part of. Signup for our weekly newsletter here.
Staff
Children's Pastor
Nursery & Preschool Operations Manager